Winfrey's Easter Bunnies are waiting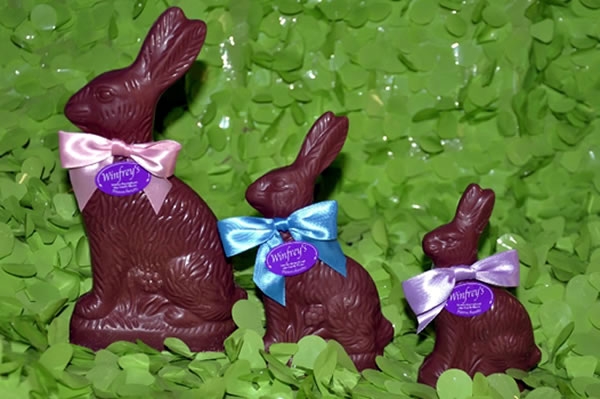 We have all of our Bunnies in a Row…
The Tradition continues, Celebrate Easter with Winfrey's Chocolates
April 21,2019

Easter Tradition: Upon awakening Easter Sunday morning, the children will hunt for the Easter basket left by the Easter Bunny. Then the family will dress in their finest new spring clothes, and go off to church to celebrate Christ's resurrection. From there, the holiday tradition continues. Some have a big breakfast or brunch feast. Other families will have a big meal with baked ham as the most common meat. Brightly colored hard boiled eggs will also be popular along with the Easter Egg hunt!
Be sure to include a Winfrey Easter Egg or Chocolate Bunny
to your tradition.
Watch as we create our 20 pound semi-solid Chocolate Easter Bunny.